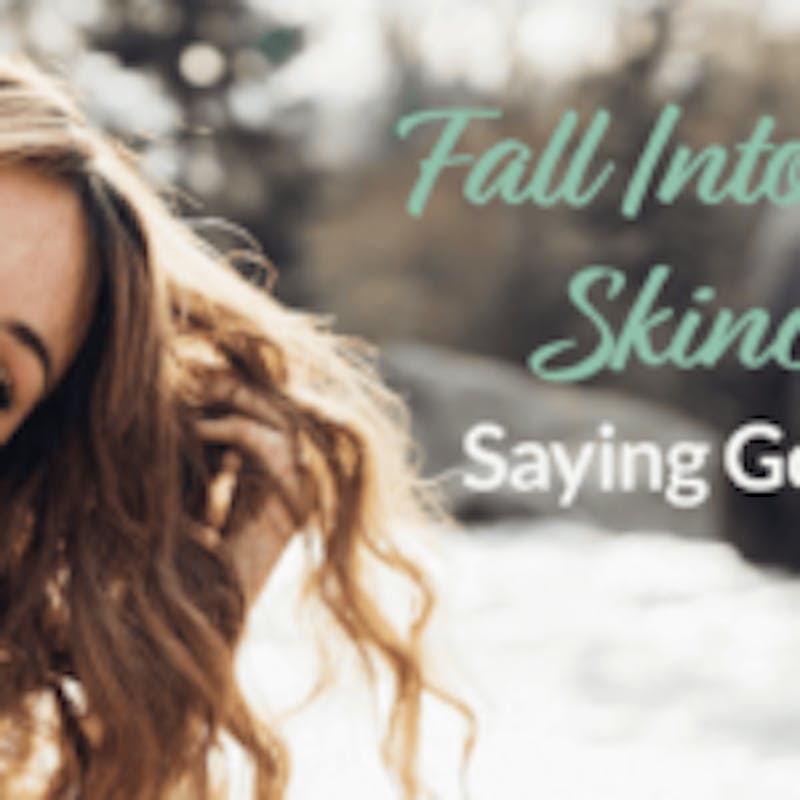 Fall Into Next Season's Skincare Routine: Saying Goodbye to Summer
Don't shoot the messenger but it's officially time to start breaking out the warmer clothes to prepare for the onslaught of all things fall- and prepping your closet isn't the only thing that needs to be done. Just like the transition from sandals to boots, the summer to fall change brings new weather that has your skin screaming for a different routine. Here are 6 easy ways to make your skin glow as you say goodbye to summer:
Consider a New Facial Wash
Believe it or not, even if you find a face wash you love in the spring or summer, your skin may not love it come fall and winter. While, of course, you want to rid your skin of bad oil and dirt, you don't want to strip it completely of the natural oils that give it a healthy glow. Heavier or more abrasive cleansers combined with the colder seasonal air end up leaving your skin dry, cracked and unhealthy.
To avoid this, opt for a gentler cleanser- such as the Elta MD Foaming Cleanser- the last quarter of the year, allowing it to retain the good-for-you oils your skin needs.
Moisturize Like You Mean It
The motto for moisturizing should be: "can't stop, won't stop" because that's exactly what needs to happen all year long. Whether to combat the damage from the summer heat or blustery cool air in the fall- you should keep up your moisturizing routine with a vengeance.
Consider a tinted moisturizer to replace the glow the summer rays took with it by using products such as Revision Intellishade facial moisturizer.
Keep Up the SPF
We know it seems counterintuitive to apply sunscreen when you're covering up most of your body in long sleeves, scarves and hats but for the skin that does show, you can bet it's still at risk in the sun. Don't let the change in seasons stop you from soaking up the SPF.
Exfoliate
Sometimes the healthiest versions of ourselves haven't even been revealed yet. Sounds deep, we know- but in this case, you only have to exfoliate your skin to get what we're talking about. Exfoliation helps to remove the dry, dead skin cells on top, revealing fresh, glowing skin beneath. And especially after the buildup of heavy sunscreens, sweat and burnt skin from the summer, your skin likely needs it more than ever. Maintain a consistent exfoliation schedule once or twice a week all season long.
What's our favorite exfoliant? Revision Skincare Finishing Touch Exfoliant – It removes dead, dehydrated surface cells with Polynesian Volcanic Black Sand & ultra-pumice, while the Freshwater Silt hydrates, nourishes, and leaves the skin moist, soft & clean. Talk about an amazing treat – not to mention it can be purchased in our office or on our Online Store !
Pamper Your Skin
Taking it one step further, consider a pamper session once a month for professional facials that accomplish everything your skin needs in one relaxing session: exfoliation, a deep cleanse, and nourishment complete with vitamins and protective serums. Our HydraFacial treatment is the perfect way to pamper your skin every 4-6 weeks leaving your skin moisturized, healthy and youthful.
Transition Your Makeup
Finally, it may seem odd but your makeup should also change with the season, just as much as your face wash or moisturizer. The reason is two-folded; first, the weather and temperature of the seasons plays a part in whether your skin is shiner in the summer and drier in the winter. Secondly, people typically change the colors of their wardrobes to match the seasonal colors- and in doing so, your makeup should adapt, too. Brands such as Iredale Mineral Cosmetics understands the importance of lightweight and beautiful products that transition seamlessly from season to season.