Ever have a morning where you are trying to decide if you should wear sunscreen that day?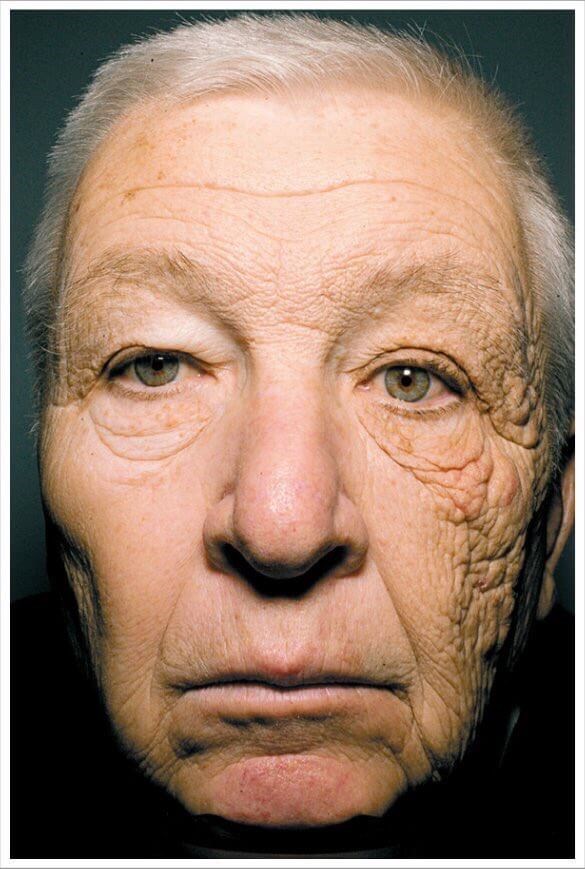 Hopefully the photo above will help influence your decision. This gentleman is a truck driver in the United States and no doubt has driven 100,000+ miles. I'm sure it never dawned on him that the sun exposure he was getting through his window would cause this pronounced aging on the left side of his face. There are similar accounts of people in Australia who have right sided damage since they drive on the opposite side of the road.
Sunscreen is the one thing that we can all agree on is essential. Being able to mitigate some of the damaging effects of the sun with a simple product should be part of everyone's daily routine. How many times have you discounted your exposure because you were just driving around making sales calls or "just" running errands? Look closely in your mirror. Do you have little brown sun spots? Of course you do. These are functions of cumulative sun light and damage.
Is there anything that can be done? IPL and Halo are two great options. They are both noninvasive and nonsurgical and can be done in the office with minimal downtime. IPL/photo facial is a device that is able to remove some of the red and brown pigmentation, while also helping a little with texture and pore size. Halo however is the "latest and greatest". It is phenomenal at removing sun damage spots while also remarkably smoothing the skin. It can be adjusted and customized to a particular patient's skin type and what they want to see improved. The results are phenomenal and can start to be seen within days.
Visit our webstite ausitnpsi.com and call our SkinCare Clinic to schedule your treatments and get on a skin care regimen that will protect and rejuvenate your skin. We proudly sell Elta MD Sun Screen and recommend everyone to protect yourselves daily. UV index can be as high as a level 4 Moderate on cloudy days and 9 Extreme on mostly sunny.